How to check storage on Mac?
In this age of terabyte flash drives and cloud storage, it's easy to forget that storage space is finite. But it is, and as software gets more sophisticated and must-have apps become more plentiful, you can eat through a 1TB SSD in no time at all.
Sure, in theory, if your Mac hard drive gets full you can just upgrade, but at around $800 for a 2TB iMac SSD and $2800 for a 4TB SSD neither option is exactly affordable. Plus, it's not just room for files that you get from a hard drive, it directly affects performance too. Let your hard drive get full and see how sluggish your Mac runs. Actually, don't do that you'll drive yourself crazy.
For optimum performance, you should continually monitor Mac hard drive space to make sure there's always room for your next big download. Keep reading to learn how to find storage on your Mac and use it more efficiently.
The simplest way to check Mac hard drive space is by accessing About This Mac.
Click on the Apple icon and choose About This Mac.
Click on Storage.
Note: If you're running an older version of OS X, you may need to click More Info to find the Storage option.
The Storage tab will show you how much space is being taken up by the System, Documents, Apps, and more. It will also display available space.
What to do when your hard drive is full?
If your Mac hard drive is nearing capacity, your system will let you know with a "disk almost full" warning prompting you to free up some space.
If you see this warning it's best to act on it. To free up space on your startup disk you'll need to do one or all of these three things:
Delete files
Move files over to cloud storage or an external hard drive
Install a second hard drive or add a larger startup disk
If you're running macOS Sierra or higher, you can get some free space by optimizing your storage with in-build tools. To do this, go to the Apple menu and select About This Mac. Here, go to the Storage tab and press Manage.
In the window that appears, you can see some tips on reclaiming free space. Here's how to manage storage on your Mac: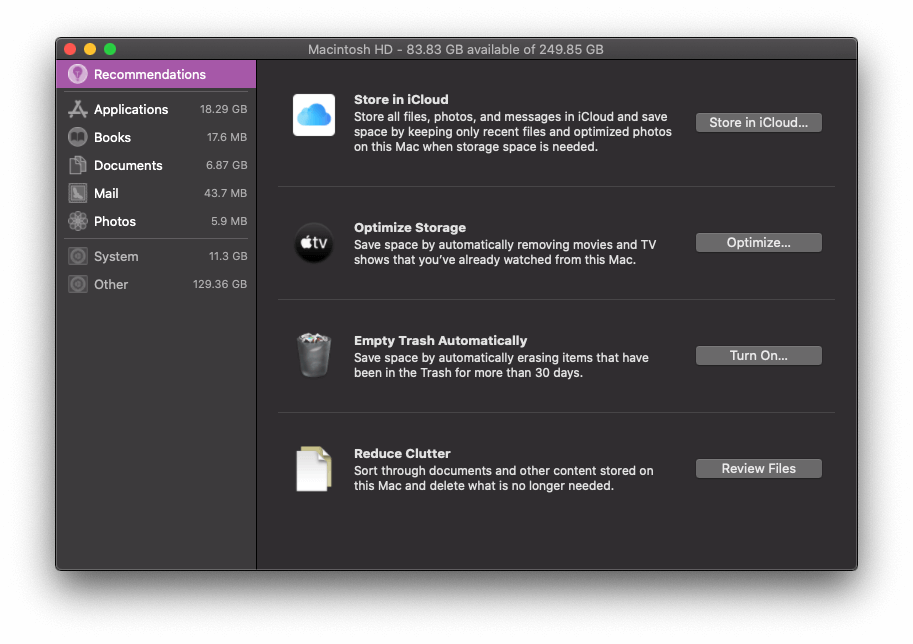 Click Store in iCloud. Choose what data you want to transfer to iCloud and confirm.
Click Optimize to remove movies and TV programs.
Turn on Empty Bin Automatically.
Click Reduce Clutter to review all your documents.
This is a quick and easy way to free up space but it's not ideal. You see, when files are moved to iCloud, junk and useless files are moved too. This means you max out your iCloud storage quicker and end up having to pay for more. For this reason, we recommend using BuhoCleaner to detect junk files and completely remove them from your system.
Delete large and old files first
Usually, old large files are the biggest space wasters on our Macs. It probably happens to anyone: you open your brand new MacBook and download multiple files, which seem to be very useful at first. But, later, you forget about these items, and they end up cluttering your storage. It's time to dig up these old massive files. And BuhoCleaner can help you out with that task.
With a dedicated Large Files module, you can quickly clear your Mac.
Download BuhoCleaner. (a free trial is available).
Install and launch the app.
Go to the Large Files module.
Press Scan.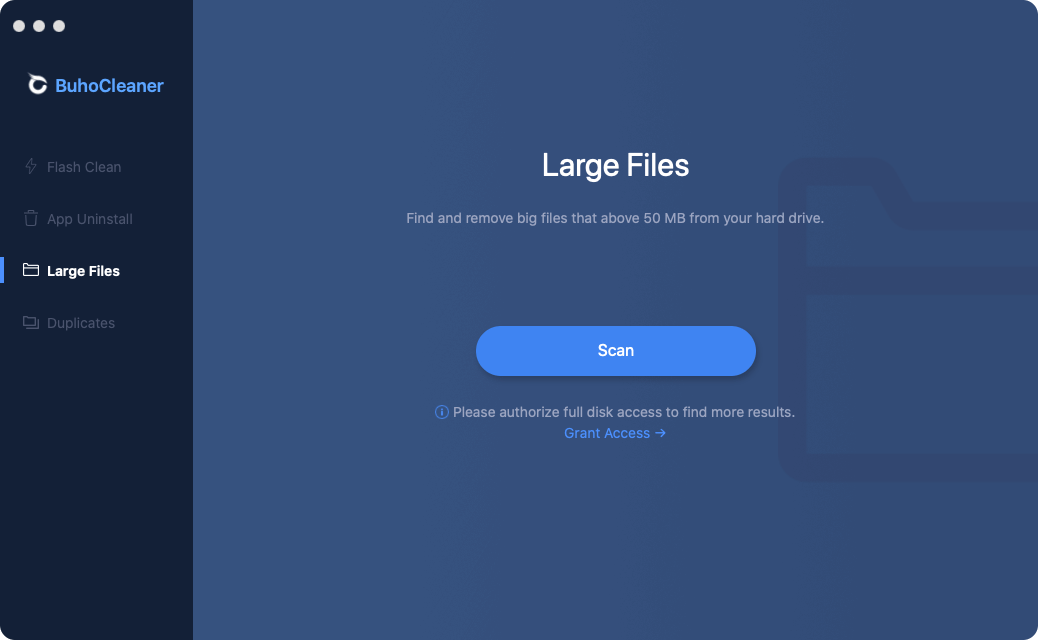 Now, all you have to do is select old files that BuhoCleaner has found and press Remove.
How to free up Mac hard drive space manually?
Deleting files manually is a simple task, but it can also be time-consuming. The best way to go about it is to find old documents, downloads, music, and applications you no longer need and drag them to the Trash.
When you do this you'll need to remember to empty the Trash, otherwise, files will just sit there and free up no space at all.
Right-click Trash in the Dock.
Select Empty Bin and confirm.
You can also remove old iTunes Library backups, iOS backups and updates, and clear cached files using the Finder.
Open a Finder window and select Go in the menu bar.
Click on Go to Folder and enter one of the following commands:

Caches: ~/Library/Caches
iTunes Library backups: ~/Music/iTunes/Previous iTunes Libraries
iOS backups: ~/Library/Application Support/MobileSync/Backup/
iOS software updates iPad: ~/Library/iTunes/iPad Software Updates
iOS software updates iPhone: ~/Library/iTunes/iPhone Software Updates

Browse each of the folders and delete any files you no longer need.
As said, clearing files manually is easy but it comes with one rather sizeable caveat: moving things to Trash leaves behind a residue — leftover pieces of files that serve no purpose other than to take up hard drive space. There you are doing your best to remove files only for Mac to be incapable of fully deleting whatever you want to get rid of.
So, what can you do about that? Yep… BuhoCleaner.
Freeing up Mac hard drive space with BuhoCleaner
BuhoCleaner scours your system for all old, outdated, and broken files, and completely removes them from your system. It's the quickest and easiest way to free up a lot of space at once.
If you need to optimize disk space in a hurry, download BuhoCleaner and select the option to clean up System Junk. This will remove old cache files and logs, broken app data, and excessive versions of documents in a couple of clicks.
Download and launch BuhoCleaner.
Choose Flash Clean from the menu.
Click Scan.
Click Remove.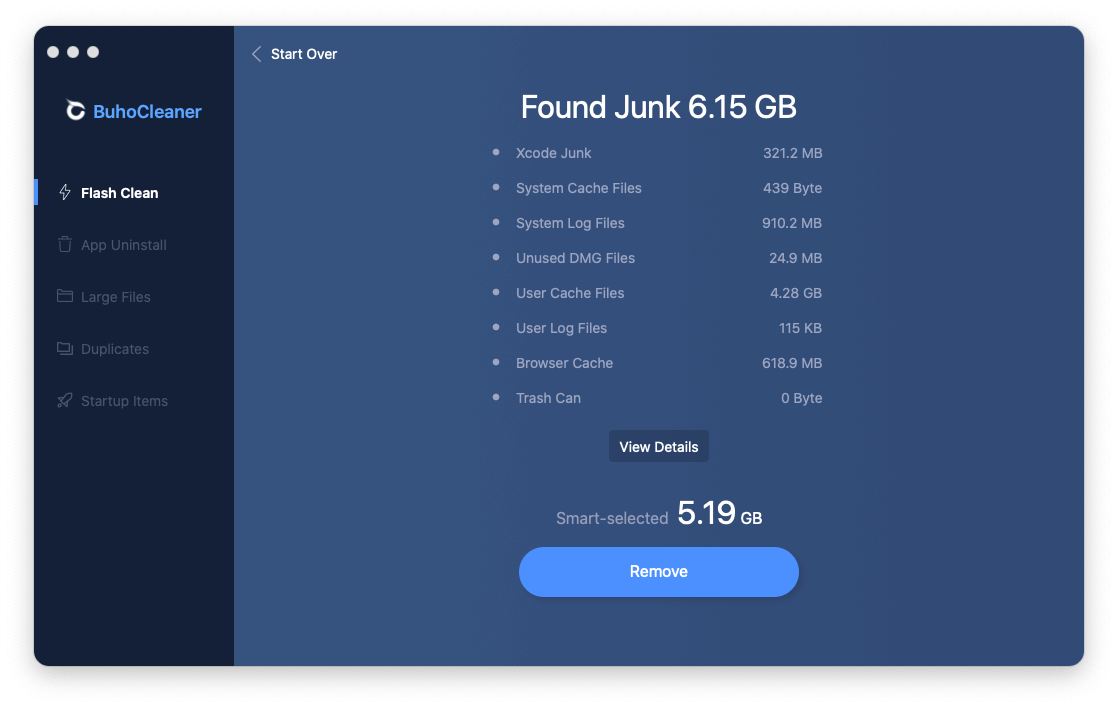 A full disk is something all Mac users experience at some point. Thankfully, it's easy to reclaim space using Mac's own optimization feature or the Finder if you're doing things manually, or BuhoCleaner if you prefer a more comprehensive solution. As you'll likely need to clean up the hard drive a few times a year, we'd suggest going down the BuhoCleaner route but, of course, we're biased. Try the different methods and see what works best for you.
Keep your Mac in good shape
I hope you managed to find out what exactly took too much space on your Mac. Here're some tips to prevent clutter in your storage in the future:
Clear old files

To use your storage more efficiently, you need to declutter your Mac once in a while. Remove apps, documents, photos, and media that you don't need on your Mac. Transfer your data to the hard drive or store it in the cloud. A perfectly organized storage also boosts your productivity, which is another advantage of keeping your space tidy.

Delete apps completely

And by "completely," I mean together with all the files associated with the app. Dragging an app to the Trash will probably leave its data in your system. So, make sure you remove your apps using native uninstallers or special tools, like BuhoCleaner.

Empty Trash

This is pretty straightforward advice, but many of us still forget to do it. Trashed files can take gigantic amounts of space. Remember to clear the Bin after you deleted some files on your Mac.

Update your software

When you Mac acts laggy, you may think it's running out of space. But, outdated software can cause the same symptoms. Updates often contain bug fixes and improvements that can positively affect how your app and your Mac run. Updating both OS and apps to the latest version will ensure the smooth performance of your machine.