How to find and delete DMG files
What is a DMG file
If you want to install a third-party application from the internet, you need to download its installer file with a .dmg or a .pkg extension. Both types of files, DMG (Apple Disk Image) and PKG (package installer), are only used on macOS. In most cases, once you download and open a DMG or a PKG file, you are asked to transfer its app to the Applications folder. Then you can launch the program and happily use it.
Since .app files of programs are located in the Applications folder, you can delete DMG files and package installers. Besides that, developers regularly update apps, so if you want to use an updated version of particular software, you will need to download a new installer.
How can you delete DMG files?
Go to the Finder and click on a search box in the upper right corner. Then, enter 'dmg', depending on what you're looking for.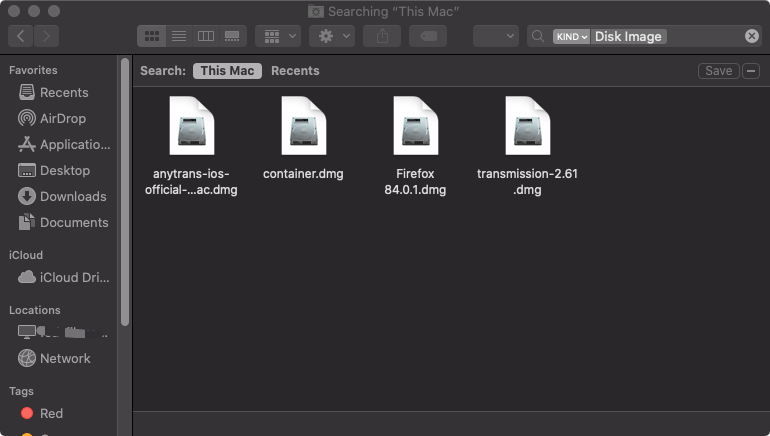 In the appearing menu, select the following sections: Kinds -> Disk Image. Right after it will show you all PKG or DMG files stored on your hard drive. Remove them all together. Besides, this life hack is handy for any type of files.
How can delete DMG files quickly?
In case you want to speed up the process, BuhoCleaner can prove useful.
Launch BuhoCleaner.
Click Flash Clean and the Scan button.
Click View Details
Then you can see all Unused DMG Files on your mac,now you could check them and click the Remove button.
Using the above steps, you can find and delete DMG files on your mac. As you can see, BuhoCleaner is very simple and safe.
BuhoCleaner is an intuitive software tool that helps you to easily clean up your Mac. It serves not only to remove DMG files, but also to clear your Downloads. Using BuhoCleaner, you can detect duplicate files on your Mac. Then you can conveniently compare these files and select the useless ones for removal. If you want to keep your Mac clean of unwanted files and improve its performance, use BuhoCleaner regularly.