How to Clear System Storage on Mac
Wondering why the system takes a large part of the storage for a newly purchased Mac, or why is the file size of other people's systems only 10G, while your system accounts for close to 100G?
In the article, we will introduce to you in detail what system storage on Mac is, why it takes up a lot of space, and how to get rid of it.
Let us find the answers together.
Also Read: How to Delete the "Other" in Mac Storage
How to Find the System Storage on Mac
Click the Apple icon in the menu bar, and then select About This Mac. In the new window, click the Storage tab, wait a few seconds, and you will find that the storage bar is divided into several parts, such as apps, documents, system, other, and more. Click the Manage button, and you can see the actual amount of space used by these categories. You may notice that the system storage takes a large part of your storage, but Apple does not allow us to access it. So what exactly is the system in Mac storage?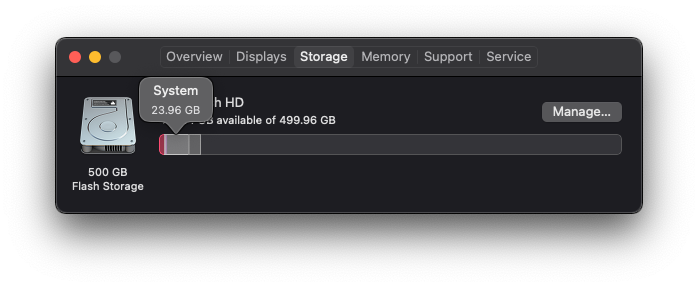 What is the System Storage on Mac
As the name suggests, system storage contains all the data and files needed for the operation of your system. It is going to be both in the System Folder and Library Folder. Under normal circumstances, the system itself is around 10G (macOS Big Sur is 12G). If your system storage is far more than 10G, it must also contain other hidden files.
Why Does the System Take So Much Space on Mac
Apart from macOS itself, the system storage may also include Time Machine local snapshots, application and system cache files, system log files, unused disk images, etc. Although macOS will automatically detect and clean up these files, it's not always as you expected. Over time, the system eats more and more space, causing your Mac to run slowly. So how to reduce the system storage? Keep reading to learn more.
How to Clear the System Storage on Mac
Remove Time Machine Local Snapshots
Do you know that your Mac keeps a local copy of your Time Machine backups in case your external drive becomes unavailable? Your Mac will keep them until space is needed. Why wait until the storage is running out before cleaning them up? You can clean them manually by yourself.
Go to Finder> Applications> Utilities> Terminal.

Type in: tmutil listlocalsnapshotdates, press the Return button on your keyboard, and you'll find a list of backups sorted by date.

To delete a backup, type this command into the Terminal: tmutil deletelocalsnapshots "xxxxxxx", enter the password for the user account if asked, and press Return. (Note: "xxxxxxx" stands for the date of the backup you want to remove.)

e.g. tmutil deletelocalsnapshots 2021-07-19-095939
Repeat these steps if you want to delete any or all snapshots.
Clear System and Application Cache
The system and applications you run on your Mac will create cache files in the Library Folder. To reclaim more space for your Mac, you can delete large cache files manually.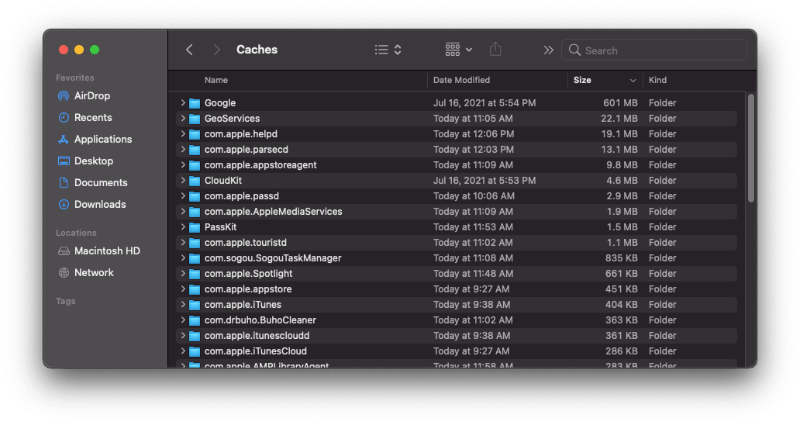 Go to Finder, click Go in the menu bar, then select Go to Folder.
Type ~/Library/caches and click on the Go button.
Sort the files in the list by size and remove the large cache files you don't need to Trash.
Go to your Trash and empty it.
Delete System Log Files
Typically, system logs are the system app's activity and services. They are located in ~/Library/Logs.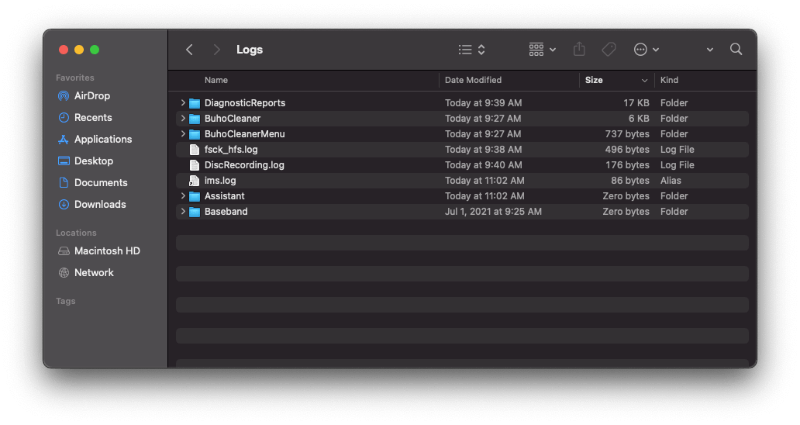 Open Finder and Click Go>Go to Folder.
Type ~/Library/Logs and press Return.
Find the log files you want to delete, select them, and press Command + Backspace.
Restart your Mac.
Optimize Your Storage
Another recommended way to clean up system storage is using the built-in tools of your Mac.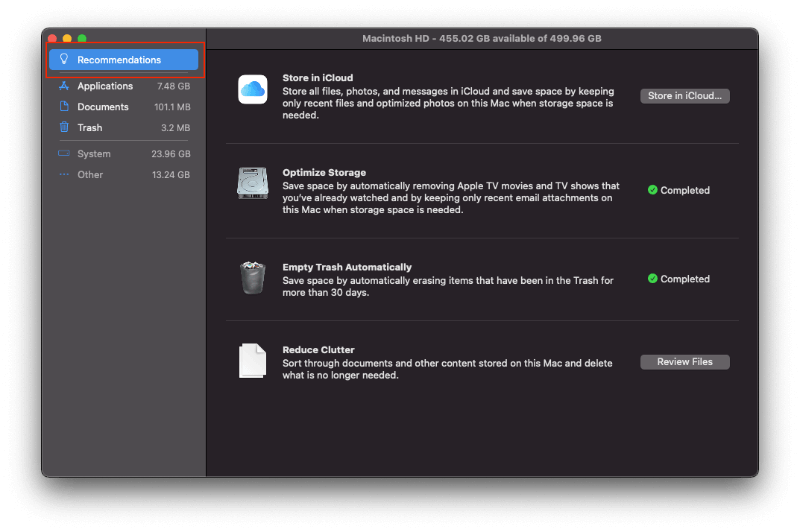 Open the Storage Management window.
Store in iCloud: store all your files, photos, messages in iCloud.
Turn on Optimize Storage and Empty Trash Automatically.
Reduce clutter: removing unused files, uninstalling unwanted apps, deleting large files, and more.
Delete Useless DMG Files
After you install an application, its dmg file will no longer be useful. Follow the steps below to get rid of it from your Mac.
Go to Finder.

Click the search icon, enter dmg in the search box, select Kind: Disk Image in the new appearing menu.

Move the unused DMG files to Trash.

Go to Trash and empty it.
Also, you can use BuhoCleaner to remove useless DMG files quickly. Refer to the article for more: How to Find and Delete DMG Files on Mac.
The Bottom Line
That's all for how to clear system storage on Mac. Hope you can free up more space for your Mac.
By the way, if you regularly clean up the cache trash, uninstall unused applications and delete files that are no longer in use, you will not worry about not having enough storage space. BuhoCleaner is a handy tool that can help you deal with these things efficiently. It is an ideal choice for macOS Big Sur and M1 macs. Give it a try now.