4 Ways to Permanently Delete Files on a Mac
How do you usually delete files on your Mac? Just move them to the Trash? This method does not delete your files completely. Your files remain on your hard drive, which not only takes up valuable storage space but also puts your private files at risk. If you want your personal or sensitive files to be unrecoverable, keep reading this blog, and we will show you how to permanently delete files on Mac in 4 different ways. Let's get started.
Empty Your Trash
Simply dragging a file to the Trash does not completely delete it. You still need to empty your Trash.
The easiest way to do this is to right-click on the Trash icon in the dock and select Empty Trash. The system will ask you to confirm if you want to delete the files in the Trash permanently. If you are sure, click the Empty Trash button.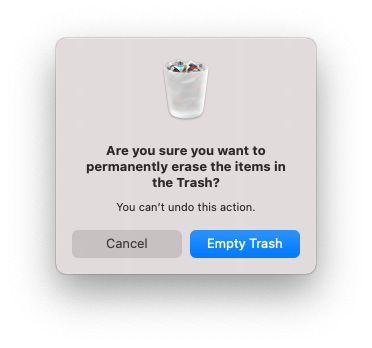 Alternatively, you can clear the Trash by using the Finder. Click on the Finder menu bar, then select Empty Trash and confirm your empty action.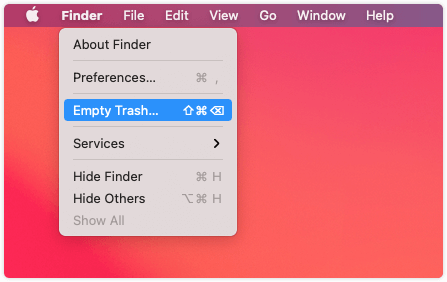 Related Article: Can't Empty Trash on Mac? Here's the Fix
Delete Files with HotKeys
To get rid of a file, just go to Finder, select the file you want to delete, and then press Command + Delete keys on your keyboard.
The above shortcuts only help you put the files into the Trash. To remove them completely, you also need to press Command + Option + Shift + Delete to empty the Trash.
Remove Files Using Terminal (Byass Trash)
Both of the methods above will empty the Trash. What if you want to make some files unrecoverable after deleting them?
At this point, you can use Terminal to remove the files you don't need. The Terminal will delete your files without emptying the Trash, and you will not get any warning, so please be careful.
Click the magnifier icon in the status menu to open Spotlight.
Use Spotlight to search and open Terminal.
To delete a file, type rm and a space in Terminal, then drag the file you want to get rid of into Terminal and press Return.
To remove a folder, type sudo rm -rf and a space, drag the folder you want to shred into Terminal, and press Return.
Delete Files Using Third-Party File Shredders (Byass Trash)
If you don't know much about Mac and don't want to deal with commands. Then using a third-party file shredder to delete files on Mac permanently is undoubtedly your best choice.
BuhoCleaner is just the tool you need. With its file shredding feature, you can freely find and thoroughly remove any unwanted files on your Mac hard drive without worrying about their recovery. 
Here's how to use BuhoCleaner to shred files:
Make sure you have BuhoCleaner installed on your Mac.

Launch it and click on ToolKit > Shredder > Select Files.

Select the files or documents you want to delete and click the Securely Remove button.
Overall, it's easy to permanently delete unwanted files on your Mac. The first two methods will empty all the files in the Trash, while the last two methods will shred only the files you choose. Just choose the most suitable way according to your needs.
By the way, BuhoCleaner is a trustworthy Mac cleanup software with many useful cleanup tools built in. Don't forget to try it if you want to reclaim more free storage space.
FAQs
How Can I Permanently Delete Files from a Flash Drive on Mac?

Open Disk Utility via Spotlight.
Click on your external flash drive in the left sidebar.
Click the Erase tab, name and format your drive, and click on Erase. All data and files in your flash drive will be wiped out.

Can I Delete Files That Are in Use on Mac?

Unfortunately, you can't delete files that are in use. Because these files may be vital to your system, deleting them may damage your system. If you are sure that the file you want to get rid of is not a system file or a critical file for an app, you can quit the program occupying the file through Activity Monitor first and then delete it.

How Can I Delete Locked Files on Mac?

You can't delete a file if it's locked. To delete it, unlock it before putting it in the Trash. Highlight the file you want to delete and select Get Info from the File menu (or use the hotkey: Command + I) to unlock the box next to it. If you are not logged in, you will be asked to enter the administrator password.