How to Find and Delete Duplicate Photos on Mac
In many cases, duplicate photos will be created, such as importing photos from mobile phones and cameras, accidentally copying a picture, saving the same image multiple times, etc. These useless duplicate photos will clutter your Mac and take up your precious storage space. Deleting them is necessary for you, especially when you run out of storage space.
This article will show you the ways to find and delete duplicate photos on your Mac. Let's take a look now.
How to Manually Find and Remove Duplicates in the Photos App
The Photos App will automatically detect duplicate photos when you import pictures into it. But if the photos are already in your Photo Library, you can manually delete them using the Photos App.
Open the Photo App.
From the File menu, select New Smart Album.
In the new window, name your Smart Album and set filter criteria.
Select the photos you want to remove, right-click one of them, and then click Delete.
Confirm your deletion and click the Delete button.
In the app's sidebar, click Recently Deleted > Delete All.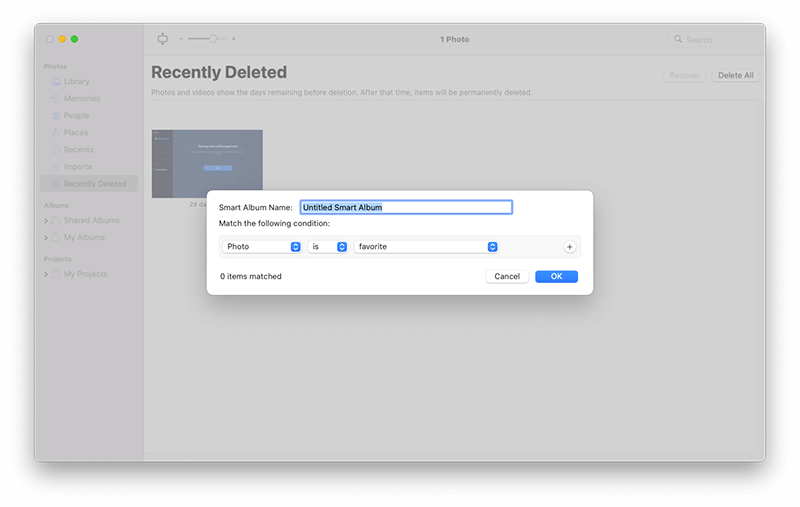 How to Find and Delete Duplicate Photos on Mac Using Finder
Finder comes with the feature of finding duplicate photos on your Mac. All you need is the New Smart Folder. Here are the steps:
Open Finder and click File > New Smart Folder.
Click the + button below the search box.
Select Kind in the 1st drop-down menu and Image in the 2nd drop-down menu.
Sort the files in the list by name. Duplicate photos usually have the same name, and they should be next to each other.
Select the files you want to get rid of and move them to the Trash.
Empty your Trash.
How to Find Duplicate Photos on Mac Using BuhoCleaner
As you can see, manually finding and deleting duplicate photos on Mac is time-taking. But a third-party duplicate photo finder can save you a lot of time and effort.
Among the vast number of duplicate photo finders, BuhoCleaner is what you should try first. It allows you to find duplicate photos in the Photos App and every folder of your Mac. Not only that, it also detects duplicate folders, songs, documents, videos, and more. It only takes you a couple of clicks. Removing duplicates has never been easier.
Here's how to use BuhoCleaner to find and remove duplicate photos on your Mac.
Download BuhoCleaner and launch it.
Choose Duplicates and click the + button to choose a folder you want to scan.
After the scanning process is complete, you can find all the duplicate files on your Mac.
Click the Image tab to find the list of duplicate photos.
From the Select Duplicates menu, choose Smart Select to select all duplicate photos with one click and click the Remove button.
BuhoCleaner is more than just finding and deleting duplicates. As the name suggests, it can also help you delete junk files from the system, apps, and users, uninstall unwanted apps, detect large files, and more. Try it for free for 7 days now.
Other Duplicate Photo Finders You Can Try
If, for any reason, the BuhoCleaner cannot meet your needs, you can try other duplicate photo finders for macOS. Here we have compiled some of the best ones for you. You can choose the one that suits you most.
1. Duplicate Photos Finder
This free tool makes it easy to find and delete duplicate photos on your Mac. All you need to do is select a folder to scan, auto mark the duplicates found, and click the Trash Marked button. However, this tool only allows you to detect duplicate and similar photos. If you also want to detect other duplicate files on your Mac, it may not be your ideal choice.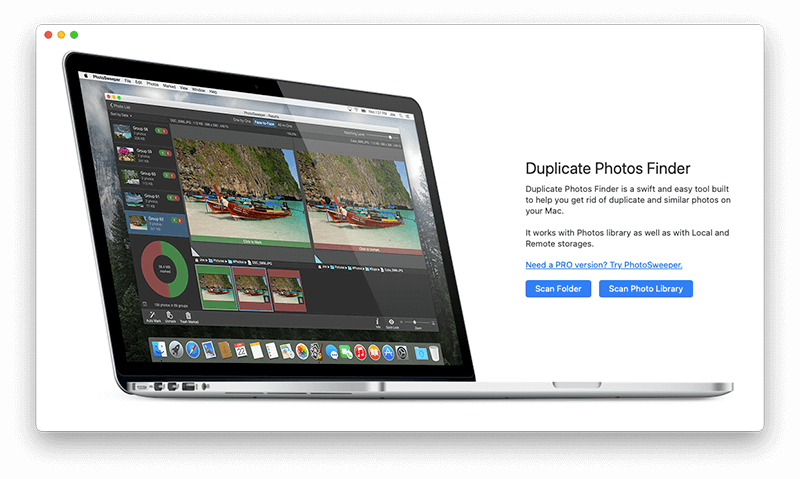 Pros:
Free and easy to use.
Finds duplicates and similar photos.
Scans the Photos Library and other photo folders on your Mac.
Can auto mark duplicates.
Cons:
Can't detect duplicate movies, audio, and more.
2. Duplicate File Finder Remover
Developed by Nektony LLC, Duplicate File Finder Remover is a tool that detects duplicate files on every corner of your Mac, such as photos, movies, audios, folders and more. What makes it unique is that you can have a great overview of the duplicate files on your Mac.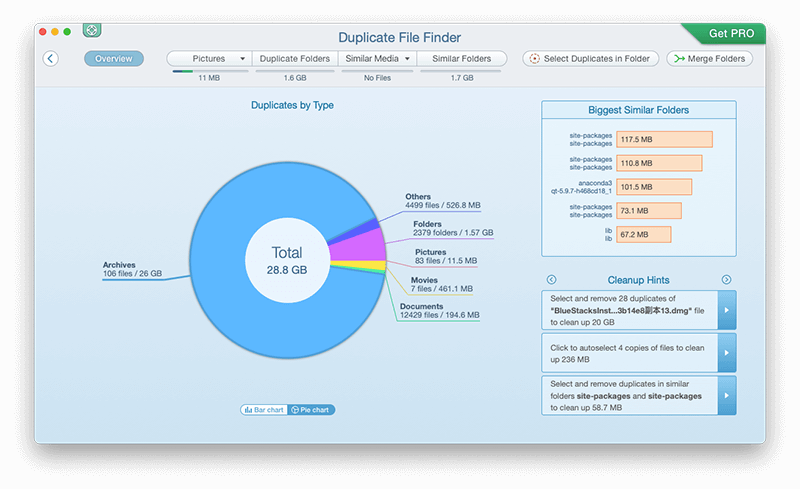 Pros:
Detects duplicate photos, audios, folders, etc.
Finds similar photos and folders.
Overview of the duplicates on your Mac.
Cons:
Limited features with the free version.
Too many pop-ups.
3. Gemini 2
Gemini 2 is one of the best duplicate file finders for Mac. It detects exact and similar photos in Mac internal and external drives. Besides, it has a Smart Cleanup feature that enables you to delete all duplicates and similars quickly.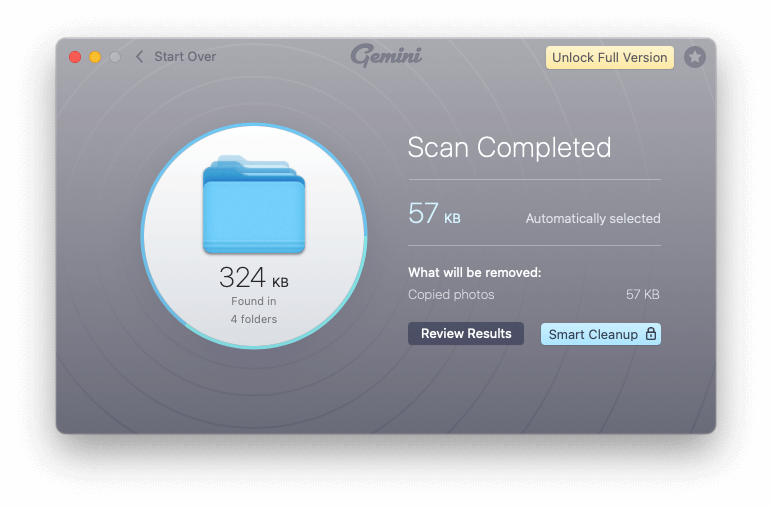 Pros:
Detect duplicate and similar files.
Can scan external drives.
Restore deleted duplicates.
Cons:
Limited features with the free version.
4. Cisdem Duplicate Finder
Cisdem Duplicate Finder is another handy duplicate photo finder. You can use it to find duplicate and similar photos. It has 3 preview modes, allowing you to decide which file version you want to keep quickly.
One drawback of the tool is that you must upgrade to the paid version to use its delete feature.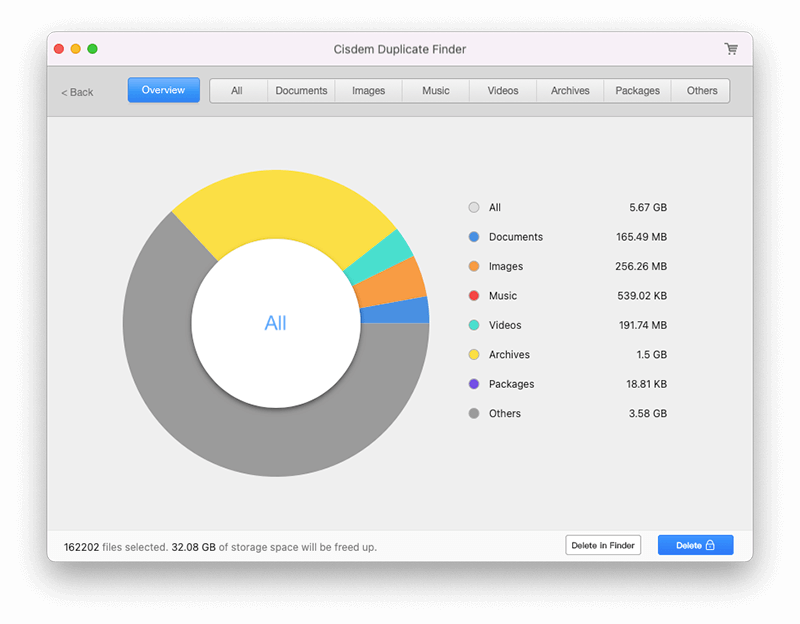 Pros:
Supports external hard drives and network volumes.
Looks for duplicates and similars.
3 preview modes are available.
Cons:
Pay to unlock the delete feature.
Slow scanning speed.
Conclusion
Now you have learned how to find and delete duplicate photos on your Mac. The manual way is time-consuming. We recommend that you use third-party tools to do the job for you. BuhoCleaner is your ideal choice. In case you don't like BuhoCleaner, we have also collected 4 best duplicate photo finders for you. All they have their pros and cons. The one that suits you is the best.