How to Remove Mac Leftover Files?
Uninstalling applications from Mac is quite common and relatively straightforward. macOS has built-in functionality to uninstall an app. But most of the time, the uninstallation leaves behind traces of programs in the form of preference files, support documents, etc (If you want to avoid this situation, you can uninstall applications by BuhoCleaner). Apps often create these files during execution, but they aren't removed automatically from your Mac when you uninstall it.
Such files are known as "application leftovers." And though they don't harm the system in any way, they do eat up storage space and eventually contribute to slowing your Mac down.
When you free up Mac storage space to optimize system performance, removing or deleting such leftovers is also essential. Here are a few ways by which you can quickly clean up Mac leftovers files.
How to delete leftovers on Mac: The manual way
Go to the following locations and if you find a folder associated with any app name you have removed, delete it to completely uninstall the programs.
~/Library/ for library files
~/Library/Caches/ for support caches
~/Library/Preferences/ to find your preference files
~/Library/Application for application support files
/Applications for binary and dock items
~/Library/Address Book Plug-Ins/ for plugins
~/Library/Application Support/CrashReporter for all the old crash reports
~/Library/Saved Application State/ for saved app states
It may take some time. But it's useful to go through this checklist whenever deleting an app, otherwise you can end up with a computer full of leftover app files. If you've never done this and have deleted a few apps over the years then it might be difficult to find what you need to remove.
How to delete leftovers on Mac: The quick way
If the above manual method seems tedious, you can use a third-party Mac cleaner software to remove all application leftovers with just a button click. BuhoCleaner can help you out with that task.
BuhoCleaner has the Uninstaller tool with a special section dedicated to application leftovers. Therefore, it takes just a few clicks to view all the leftovers on your Mac and decide whether you need to keep them.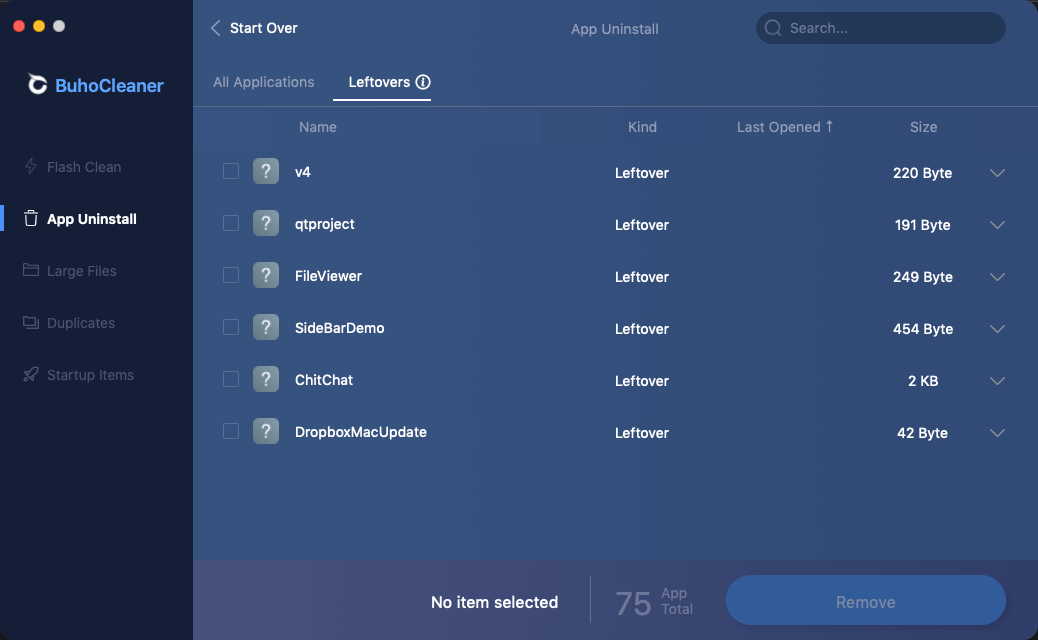 Getting rid of Mac leftover files is essential if you wish to have ample free space on your SSD or hard drive. And, BuhoCleaner serves the purpose well. The software is secure and reliable and comes in handy when you need to clean your Mac drive free from the data that isn't required by macOS. Plus, the tool frees up drive space to help improve data access speed and overall system performance. You can even automate the clean-up task at a scheduled time using the software.