How to Clean up and Optimize Your Mac
If you have been using your Mac for some time, you probably have a lot of icons on your desktop, applications you no longer use, and files that are useless to you. They are eating up your storage space and degrading your Mac's performance. In this article, we will share with you 10 tips on how to clean and optimize your Mac to make it look neat as well as run faster.
Let's get started.
How to Clean up Mac Automatically
According to researches, the less free disk space you have, the slower your Mac runs. Though there are many ways you can do to free up storage space, the most efficient way is to use BuhoCleaner.
Noticeable Features of BuhoCleaner:
Simple and super easy to use.
Clean up junk files from your system, applications, and browsers with one click.
Delete apps and app leftovers completely.
Find large and duplicate files in a snap.
Disable/enable login items and services in bulk.
Monitor system status in real-time.
Free up RAM in one click.
Optimized for Apple M1, macOS Monterey and Big Sur.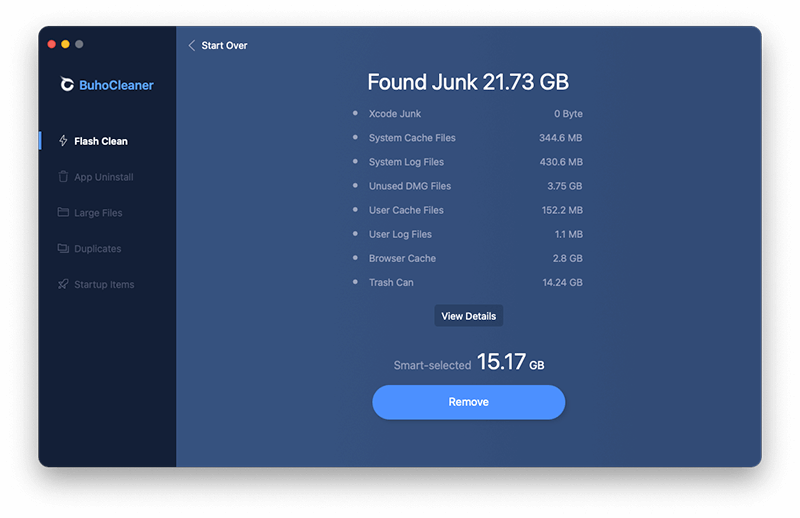 Here's how to clean and speed up Mac with BuhoCleaner:
Download and install BuhoCleaner on your Mac.
Launch it, select the Flash Clean option and click on the Scan button.
If you trust its smart selection, click the Delete button directly. If not, click the View Details button to manually select the files you want to delete or keep.
How to Clean up Mac Manually
If you're a seasoned Mac user, you can clean up your Mac manually. Here are 7 ways you can try.
Update Your Software
Updating your software can help you fix some problems on macOS and may make your Mac run faster. If you've downloaded the latest macOS version but haven't installed it, it's just there to take up your space. Once you install it, you can get back hundreds of megabytes or gigabytes of storage space. 
Declutter Your Desktop
If you constantly put files, photos and screenshots on your desktop, chances are your Mac will look cluttered. And a cluttered desktop can not only bore you, but it can also make it harder to find your files.
The Mac has long thought of this problem. It has a very useful tool built in that keeps your files neatly organized in groups. All you have to do is click anywhere on your desktop and choose Use Stacks.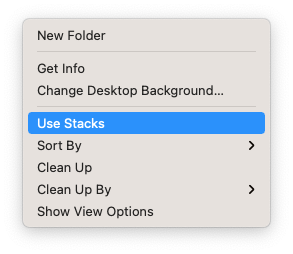 Optimize Your Storage
As time goes by, more and more files accumulate on your Mac, taking up a lot of storage space. But don't worry, Mac has built-in optimization tools that allow you to optimize your storage space automatically.
Click the Apple icon in the menu bar and select About this Mac.
Click on the Storage tab, and you can check the usage of your storage.
Click the Manage button above the storage bar to open the Storage Management window.
Follow the 4 optimization recommendations on the window to optimize your storage space.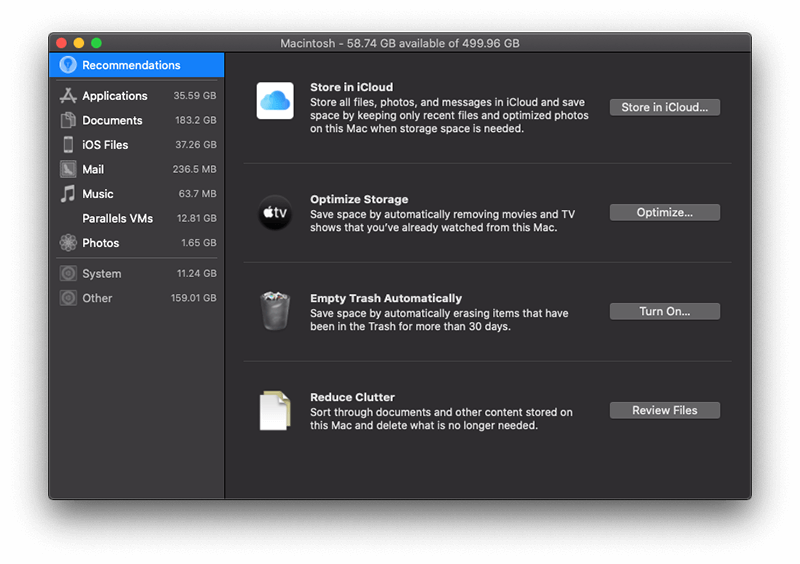 Clean up Cache
Caches are temporary files that speed things up on your Mac. If you don't clear them often enough, they can accumulate and eat up your space. Common caches include system cache, application cache, and browser cache.
You can clear them one by one manually or let BuhoCleaner scan and delete them for you quickly. Either way will help you clear your cache and free up some storage space.
Also Read: How to Clear Cache on Mac
Deleted Unused Apps
Another tip for cleaning up your Mac is to delete the apps you don't use. They take up your space and do not do you any good. Therefore, it is a good idea to remove them completely from your Mac.
There are two ways to uninstall unnecessary applications. One is to drag them to the Trash, and the other is to use an application uninstaller like BuhoCleaner. We prefer the latter because it completely deletes the application and its related files. The former only removes the application itself, and the related files of the application still reside on your hard drive. We also have an article about How to Remove Leftovers on Mac.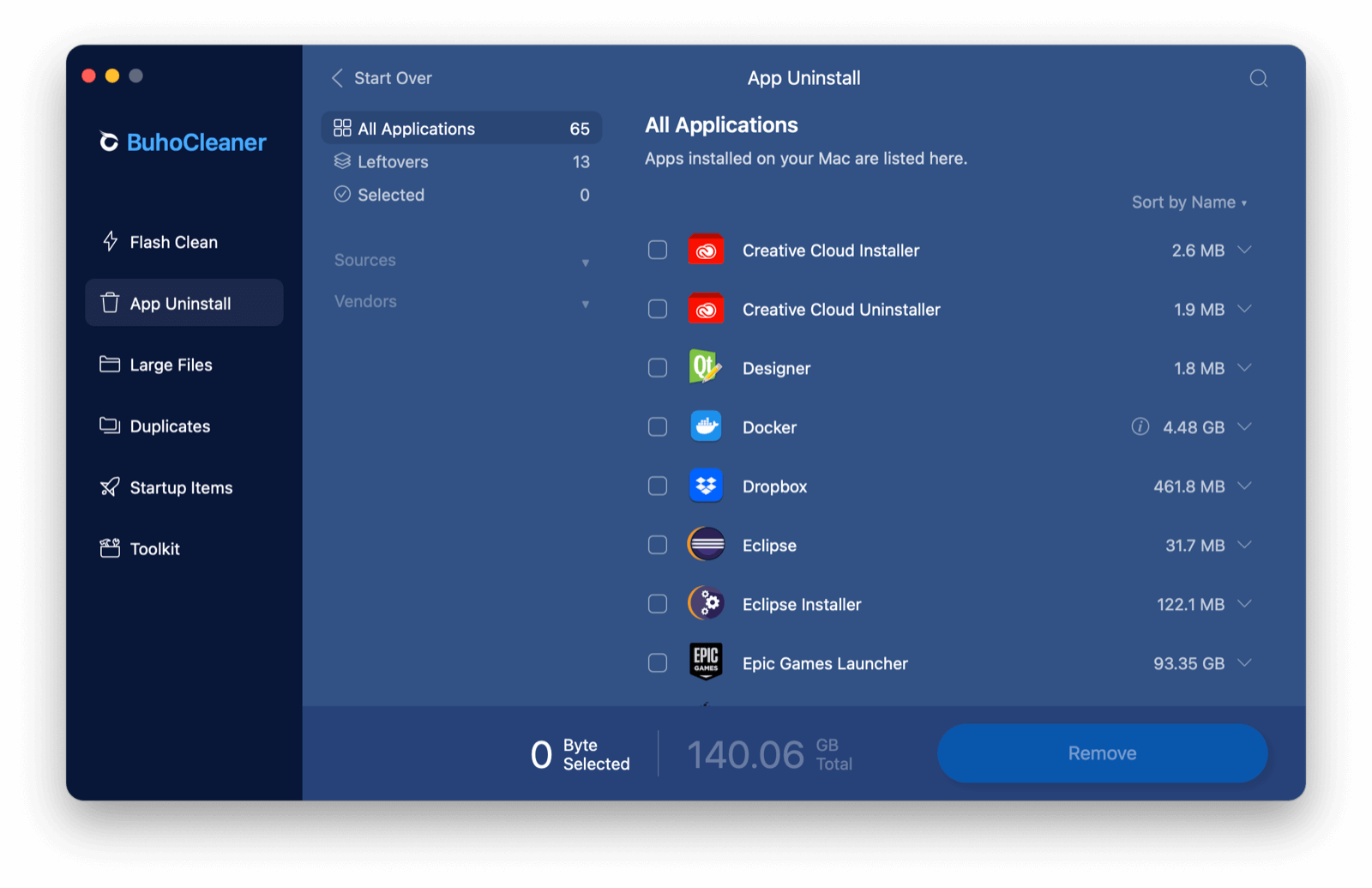 Here's how to delete apps you don't use with BuhoCleaner:
Download the free version of BuhoCleaner and install it on your Mac.
Launch it and click the App Uninstall tab.
Click the scan button, and it will find all the apps uninstalled on your Mac.
Find the apps you want to get rid of, select them and click the Remove button.
Clean the Downloads Folder
In our daily use of Mac, we always inevitably download some files. Over time, the files will pile up in the Downloads folder. Some of these files may no longer be useful to you, such as duplicate files, old files, DMG files, large files and so on. Clearing them out can help you reclaim some valuable storage space.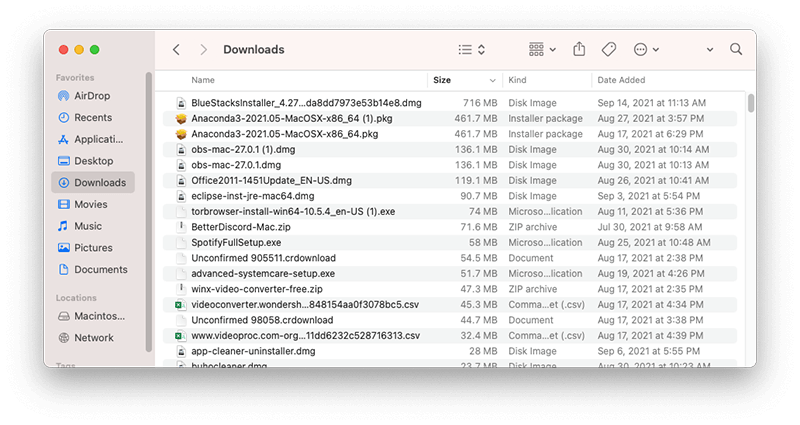 You can go to Finder and delete them manually. Or you can use a third-party finder tool, such as BuhoCleaner, to clean them up for you automatically. The former is time-consuming and suitable for experienced Mac users, while the latter is super easy and novice-friendly. We recommend you to use the latter. Click here to download it for free.
Remove iOS Backups
Deleting iOS backups is also a good way to clean up your Mac. There are 3 ways to clean them up.
For macOS versions before 10.15, you can go to iTunes > Preferences > Devices > Delete Backups.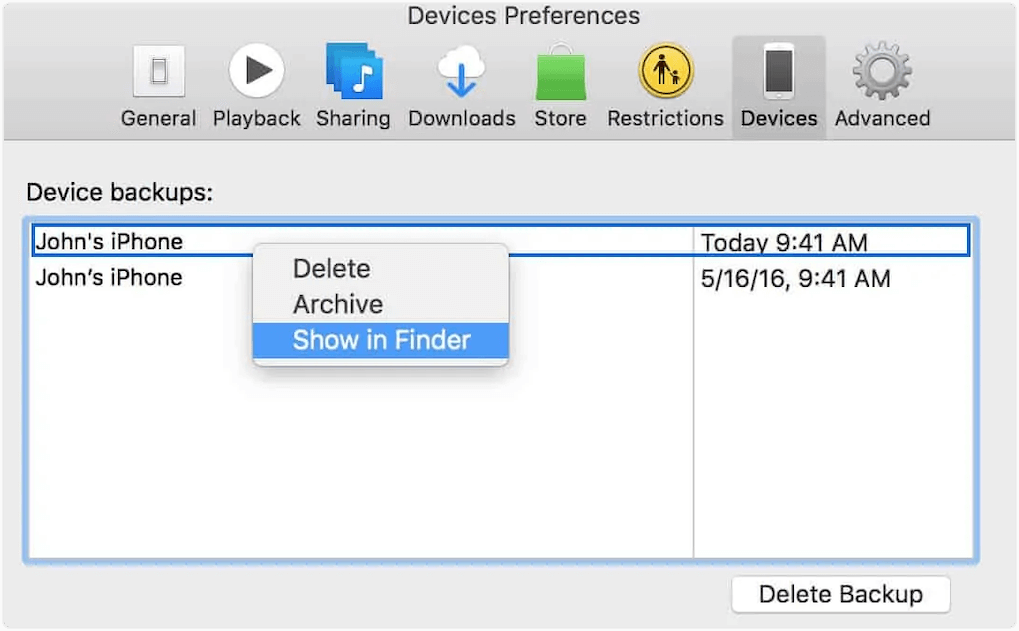 For macOS 10.15 and later, use Finder to delete iOS backups.

Open Finder, find your iPhone in the sidebar, click the Manage Backups button, and then delete the backups you no longer need.

You can also go to Finder to find all iPhone and iPad backups manually.

On the Finder window, press Shift + Command + G to open the Go To Folder window and enter the text: ~/Library/Application Support/MobileSync/Backup/, then click the Go button. Just remove the backups you don't need to Trash.
Disable Login Items
Login items are programs that automatically log you in when you start your Mac. They're supposed to make your work on the Mac more efficient. But the windows they open can also be frustrating for you. Follow the steps below to stop unwanted applications from opening on startup.
Click the Apple icon > System Preferences > Users and Groups > Login Items.
Select the apps you do not want to launch when you log in to your Mac.
Unlock the padlock and click the minus button below the list of login items.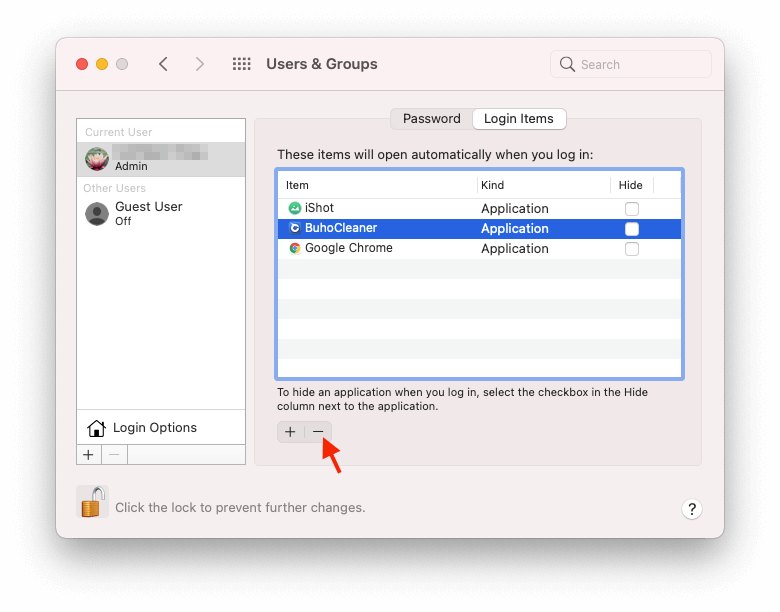 Empty the Trash
The last and most important one is to empty your Trash. Why? Because we usually just move files to the Trash without cleaning them out of the Trash, and they still stay on your hard drive. Why not take a second to clean it up and then free up a lot of free disk space?
Conclusion
That's all for how to clean up and optimize your Mac in 10 ways. After trying these methods, your Mac will look neat and run faster than before.
If you find the article helpful, do share it with your friends. Thanks!