MacBook Won't Update: Why and What To Do
It's frustrating to be unable to update your macOS to the latest version. Want to know how to update your Mac successfully? Look no further. This blog post will cover why your MacBook won't update and how you can fix the issue quickly.
Let's get started.
Why Can't I Update My MacBook
During the download and installation process of macOS, you may encounter a false warning. And the reasons behind the warning alert vary. Here are the most common ones:
Your Mac is not incompatible.
You're running out of storage space.
Poor internet connection.
Apple servers errors.
Sudden power off.
8 Fixes for MacBook Not Updating
After understanding why your MacBook won't update, let's see how to fix the problem.
1. Check If Your Mac is Compatible
Incompatibility can lead to an update issue. Before actually updating your Mac, you'd better check whether your Mac is compatible with the macOS you want to install.
Apple has a list of Macs compatible with the latest macOS Monterey. If you wish to update to an earlier version, check this article for compatibility.
2. Free Up Enough Storage Space
Insufficient storage space is one of the most critical factors that you can't update Mac. According to Apple Support, to successfully update to macOS Monterey, you'll need at least 26GB of free space if you're on macOS Sierra or later, and up to 44GB if you're on an earlier macOS.
To know how much free space you have left, click the Apple menu > About This Mac > Storage.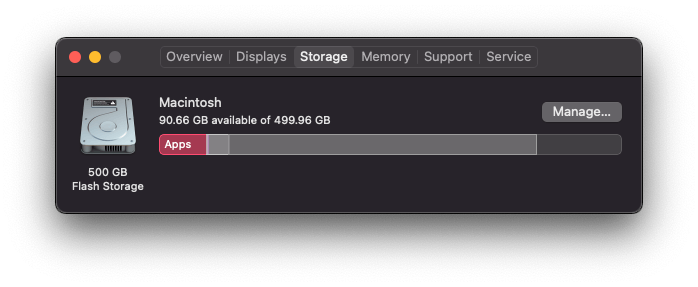 If you're running low on storage space, you can use BuhoCleaner, one of the best Mac cleaners, to quickly clear unnecessary files on your Mac. What the tool can do for you includes junk file cleaning, unwanted app removal, and large/duplicate file detection and deletion. It only takes a few seconds to free up gigabytes of storage space.
Alternatively, you can refer to How to Free Up Disk Space on Mac for more detailed Mac cleaning tips.
3. Check Network Connection
Network connection plays an essential role in a successful macOS update. The macOS installer needs to get the relevant Mac information over the network. Therefore, make sure your Wi-Fi is connected and stable.
To have a better Wi-Fi connection, follow the steps below to reset your Wi-Fi.
Click the Wi-Fi icon in the status menu.
Turn it off and on again.
Check if you can update your Mac properly.
Related Article: Mac Won't Connect to Wi-Fi? Here's the Fix
4. Restart Your Mac
If your Mac is stuck on a screen for over 10 minutes, most likely, your update has failed. In this case, you can press and hold the Power button, turn off your Mac, and then restart your Mac to see if the update is successful.
5. Check If There Are Issues with Apple's Servers
Update problems occur when Apple's servers are experiencing issues. What you need to do is check if Apple's system sta page. 2. Find the macOS Software Update and see its status. (Green means available, while red or yellow means issues with Apple's servers, and there is nothing you can do but wait. )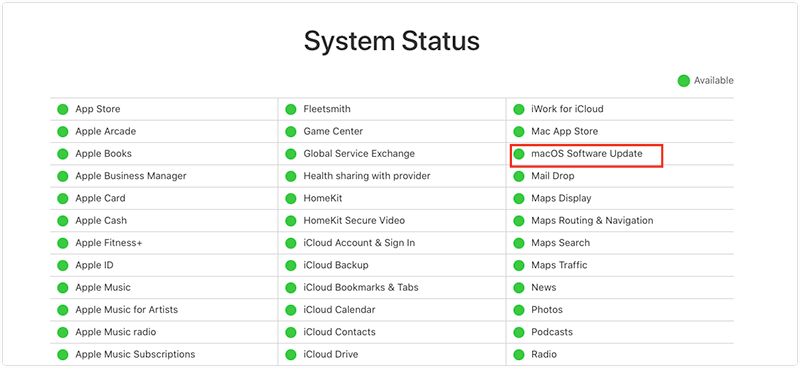 If there are no issues with Apple's servers, try the next step.
6. Reset NVRAM
NVRAM is short for Non-Volatile Random Access Memory. It stores your Mac's preferences such as date, time, desktop, mouse, and so on. These preference files help your Mac run smoothly, and they will not be erased even if you turn off your Mac. However, they may also make your Mac run problematic. Regarding this case, you can reset your NVRAM.

Here's what you need to do:
Restart your Mac.
Immediately press and hold Command + Option + P + R keys.
20 seconds later, release the keys.
When your Mac reloads, try to update your macOS.
7. Update Mac in Safe Mode
Safe Mode can solve a lot of problems with Macs. If your Mac fails to boot up because of a black or blank screen, you can update your Mac in Safe Mode.
Here are the steps:
Restart your Mac.
Press and hold the Shift key until the login window appears. (You can see the Safe Boot words in the right corner of the login window.)
Log in to your Mac and update your Mac.
8. Update macOS via Recovery Mode
macOS Recovery Mode is the ultimate solution for you. With the macOS Recovery Mode, you can reinstall the latest version of macOS that is currently or recently installed. But to avoid any bad surprises, it's a good idea to back up your Mac first.
Here's what you need to do:
Turn on your Mac.
Immediately press and hold Command + R keys until you see the Apple icon or other images.
In the macOS Utilities list, choose Reinstall macOS.
Follow the on-screen instructions to complete the reinstalling process.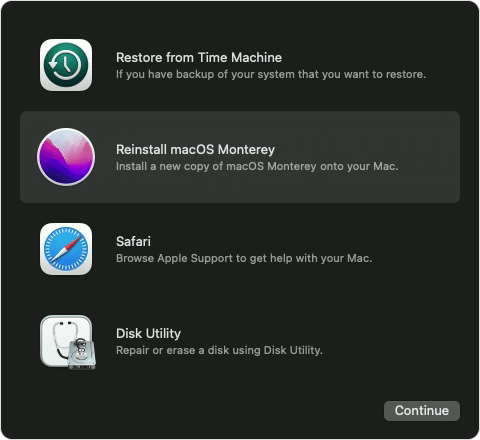 Conclusion
Hopefully, you have successfully updated your MacBook by using one or more of the above methods. If your Mac still fails to update, you may need to check your hardware. Overall, Mac update issues are common, and finding a solution is not difficult. It's worth noting that lack of storage space is the main reason you cannot update your Mac. Don't forget to reserve enough space before performing an update.